Jack's Manual
Superior Skin Care and Shaving Products For Men.
There is a cure for the wintertime blues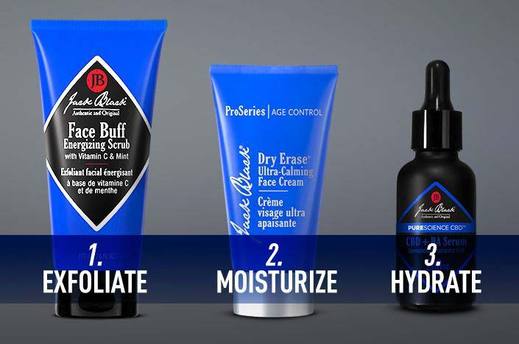 If there's one thing you need to know about taking care of your skin in winter, it's keep it 
hydrated
.
Cold air and lack of humidity are a powerful combination that can lead to dry, chapped, flaky skin–which can lead to rougher, more blemish-prone facial skin. In the case of your hands, feet, and lips, you might even experience cracking.
Jack Black's 3-Step Hydrating Regimen for Winter Skin
1. Exfoliation is a great first step in getting moisture into your skin. An effective exfoliator like 
Face Buff Energizing Scrub
 can help dissolve dead skin, work on fine lines, and lead to a healthier-looking, smoother surface. Mineral rich, eco-friendly Bamboo Powder granules provide gentle exfoliation; Peppermint cools, invigorates, and refreshes; and Vitamin C fights against free radicals.
2. Step two is a great moisturizer. 
Dry Erase® Ultra-Calming Face Cream
 delivers moisture to dry skin, helps diminish the appearance of redness, and soothes facial skin. Tea Tree Fruit Seeds and Sweet Almond Oil provide immediate and sustained hydration to skin. Aloe Vera offers antioxidant protection while it calms and soothes skin, and Jojoba delivers superior hydration to deeply moisturize and quench dry skin.
3. These first two steps go a long way in helping keep winter skin hydrated. But for an extra boost, we recommend a third step: 
HA Serum
. This antioxidant rich, hydrating serum instantly absorbs to nourish and calm skin. Jack Black's exclusive blend of Hyaluronic Acid, and plant-based oils replenishes moisture and revives dull skin. Perfect to use on its own or mixed with moisturizers, post shave, and serums to provide an extra boost of skin benefits.
These three steps can help provide superior hydration to facial skin. For hands, feet, lips, and body skin, check out Industrial Strength Hand Healer, Intense Therapy Lip Balm SPF 25, Turbo Body Scrub™, and Cool Moisture Body Lotion.
When it comes to cold, dry air, there is a cure for the wintertime skin blues. Jack Black, head-to-toe.
---