Jack's Manual
Superior Skin Care and Shaving Products For Men.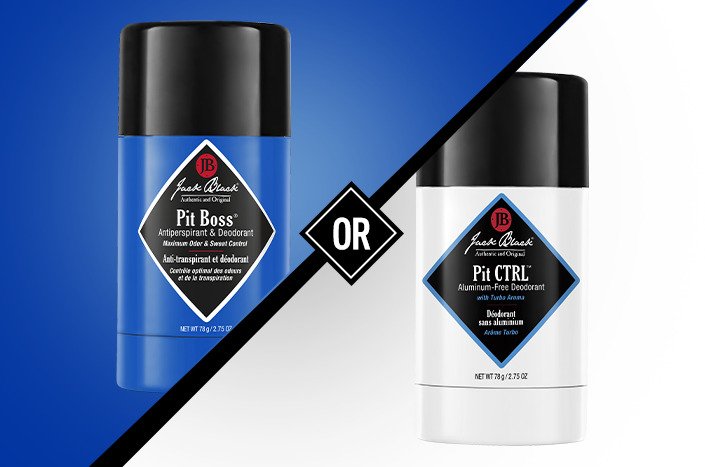 When it comes to deodorants, one size does not fit all. Taking a few facts into consideration can make your choice fast, easy, and the right choice for you.
First, let's talk about the difference between a deodorant and an antiperspirant.
A

 

deodorant

 

protects against odor.
An

 

antiperspirant

 

protects against sweat and odor.
A

 

deodorant

 

will keep you fresh.
An

 

antiperspirant

 

will keep you fresh by helping to control sweat–perfect if you want to avoid underarm wetness.
Baking Soda and Cornstarch are used in

 

deodorants

 

to neutralize odors and absorb wetness.
Aluminum is the active ingredient in

 

antiperspirant

 

that helps reduce sweat.
How do you choose?
A good rule of thumb is to tailor your protection to your lifestyle. If you want to control odor, both antiperspirants and deodorants do that–and Pit Boss® and Pit CTRL® both offer lasting protection and keep you fresh. If you like to sweat–some people think this is a cooling mechanism for the body–then Pit CTRL is the best option for you.
Pit CTRL® Aluminum-Free Deodorant
If you want a more natural control, Pit CTRL is 97% natural,* aluminum-free, and vegan. It features our best-selling Turbo® aroma, glides on easily, and provides all-day odor protection.
The gentle formula combines Baking Soda, Cornstarch, and Enzymes to provide long-lasting odor protection. It glides on clear and is Dermatologist tested.
Some people switching to a natural deodorant from an antiperspirant may find that it can take about 4 weeks to completely adjust to using a product like this. The first few weeks you may feel like the product is not working to control odor, and you may actually sweat a little more. This is not unusual. As your body adjusts to the product, the odor control will improve and any increase in sweating will typically dissipate.*
Pit Boss® Antiperspirant & Deodorant
This roll-up stick features our popular All-Over scent and glides on easily to deliver long-lasting odor and wetness protection. The gentle formula won't irritate delicate underarm skin, and it's the #1 Deodorant.**
This effective formula features Aluminum Zirconium Tetrachlorohydrex Gly (20%), an advanced antiperspirant ingredient that helps reduce underarm wetness and controls sweat.
Vitamin E, also featured in this gentle formula, is known as an antioxidant superstar and works to protect cells against free-radical damage. Aloe is a natural emollient with hydrating, softening, and soothing properties.
Whatever you choose, with Pit Boss & Pit CTRL, Jack Black® has your pits covered.
*Formula comprised of 97% natural ingredients.
**Source: The NPD Group/ U.S. Prestige Beauty Total Measured Market, Skincare Product Sales, January-December 2019.
---