Jack's Manual
Superior Skin Care and Shaving Products For Men.
Maskne is a real problem. We have a real solution.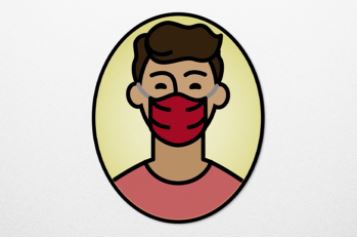 For the unforeseeable future, face masks will be a part of our everyday wardrobes. That means for many of us, maskne will continue to be an everyday issue. But as usual, Jack Black® has a solution.

First, what is Maskne?


Clogged Pores: Can resort to pimples, whiteheads, or blackheads.
Rosacea: If you have rosacea, wearing a mask can cause flare-ups that can lead to pimples and redness.
Contact Dermatitis: A rash, irritation, and/or blisters that occur when you're allergic or sensitive to the material of your mask.
Folliculitis: An infection of your hair follicles that can cause bumps that look like an acne breakout.

What Causes Maskne?
In most cases, maskne is the result of clogged pores. We all already have oil, bacteria, and dead skin cells on our skin. When we wear a mask, these substances can build up more and block pores. Add to that the humidity that is trapped inside the mask with breathing and talking, sensitivity to the face mask material or detergent it's washed in, chafing, irritation, and friction, and you have a perfect storm for breakouts.

Jack Black's Maskne Regimen
It's essential that you keep wearing your face mask–even when you have maskne. But with three simple steps, twice a day, you can help keep maskne at a minimum.


Pure Clean Daily Facial Cleanser.

 

2-in-1 cleanser and toner that gently removes deep-down dirt and oil without overdrying.
Bump Fix® Acne, Razor Bump & Ingrown Hair Solution.

 

Reduces acne blemishes and clears pore buildup caused by the masks. Hydrating and soothing ingredients counteract dryness and irritation.
Clean Break® Oil-Free Moisturizer.

 

To tackle irritation that the mask may be causing from friction, use Clean Break sparingly along the edges where the mask fits the tightest. Use a generous amount on other parts of the face. This product features Niacinimide, a B-Vitamin that supports the skin barrier by helping with Ceramide production, the proteins that retain water inside the skin.
Unmasking; Remasking; Choosing the Right Mask


The American Academy of Dermatology Association recommends that you remove your mask for 15 minutes every 4 hours. NOTE: Wash your hands before removing your mask and remove your face mask only when you can practice social distancing.
Before remasking, make sure you have washed your hands thoroughly.
Choose a mask that…

Fits snugly, but not too tight
Has two or more layers of fabric
Is made of natural, soft fabric (like cotton)
Avoid masks made of synthetic fabrics such as nylon or rayon. These masks can irritate the skin.
The protective layer in disposable masks breaks down after one use. Make sure you toss them after you wear them–and have plenty of replacements on hand.

Once you're home, wash your face with Pure Clean Daily Facial Cleanser. Treat with Bump Fix® Acne, Razor Bump & Ingrown Hair Solution, and moisturize with Clean Break® Oil-Free Moisturizer.
Remember to wash your mask after every use using unscented, hypoallergenic laundry detergent. Consider always keeping several face masks on hand in case you need a fresh one. Keep them in the car, with your gym gear, at the office–but always mask up.
Sources:
https://www.healthline.com/health/maskne
https://health.clevelandclinic.org/the-struggle-with-maskne-is-very-real/
---